AT&T Running Club

Mid-Atlantic Regionals
Washington, D.C. area
June 10-11, 2023
Complete Results: June 10 Results - June 11 Results - Team Scores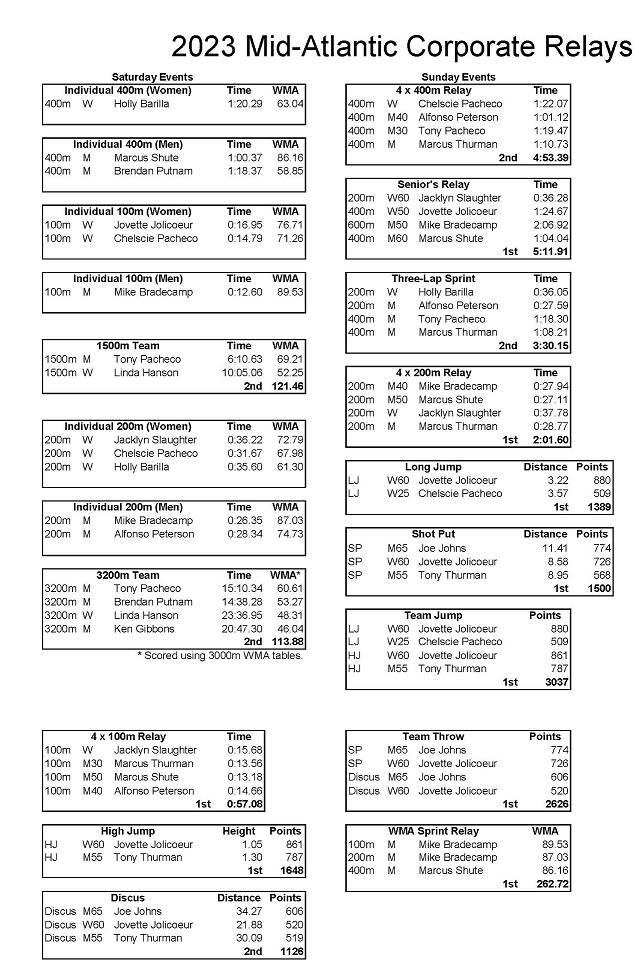 Meet Recap by Tony Thurman
AT&T competed in the Mid-Atlantic Corporate Relays this year. This year's meet, held in the Washington D.C. area, consisted of most of our usual track and field events, but did not include the road races. Although our team was smaller than in past years, we competed very well and had a great time! We had team members from Atlanta, California, Chicago, Kansas City, Nebraska, Washington State, Canada, New Jersey, Pennsylvania, and the Washington DC area. AT&T finished in second place in the meet behind Booz Allen Hamilton who had a larger team that completed four more relays than AT&T.

We turned in a remarkable sprint performance with gold medal performances in both the men's and women's 100M, 200M, and 400M events as well as the 4x100M, 4x200M, WMA Sprint and Senior's relays. Our sprint team consisted of: Marcus Shute, Marcus Thurman, Alfonzo Peterson, Mike Bradecamp, Jacklyn Slaughter, Chelscie Pacheco, Brendan Putnam, Tony Pacheco, Holly Barilla, and Jovette Jolicoeur.

Our middle distance team consisting of Tony Pacheco, Brendan, Ken Gibbons, and Linda Hansen scored valuable points in the team 1500M and 3200M events. We are hoping for a speedy recovery for Phil Gibbons who got injured early in the 1500M race.

Our Throwing team consisting of Joe Johns, Jovette and Tony Thurman won the Shot put and team throw and our jumping team with Jovette, Chelscie and Tony Thurman won the high jump, long jump and team jump events. The meet results are attached below.

Some noteworthy individual performances included:

7 Gold Medals for Jovette, 4 gold medals for Marcus Shute, Jacklyn and Mike.

For 2024, the AT&T team is considering whether to participate in the Mid-Atlantic Regional Relays again in June (if held), or in a National meet in Portland, ME in July hosted by the Maine Corporate Track Association.

This meet and our strong performance wouldn't have been possible without a lot of work behind the scenes by a number of people. I am thankful that Gordon Smith, from the Booz Allen team spear-headed the meet and worked the local logistics to secure the venue. I'd like to thank Linda Hanson for organizing the team dinner that was well attended and enjoyed by all. Also, Mike Bradecamp picked up all of the beverages and snacks for us.

As usual, Ken Gibbons did a phenomenal job of scheduling the team in their events. He dealt with multiple changes in personnel with athletes who had to cancel and with some last-minute additions to the team. He also provided some significant support to the corporate meet coordinator in defining the meet events and the team scoring. While I see Lou thank him every year, words don't capture the impact Ken has on our team. A significant amount of our success over the years can be attributed his artful crafting of our line-ups to maximize our team points.

I again would like to thank Lou again for leading this team for all these decades and for mentoring me through season.