AT&T Running Club

2020 Virtual Meet
A National Championship
June 15 - July 31
For individual results including the road races and the field events go to 
2020 Virtual Meet Complete Results
Use Drop Down menu to scroll to AT&T Running Club
Final Teams Score
AT&T Running Club - 2,519pts
General Electric - 2,500pts
Texas Instruments Track & Field - 2,104pts
Aerospace Meteor Track Club - 1,132pts
Exxon Mobil Tigers Track & Field - 874pts
BP Track And Field - 739pts
3 Rivers Road Runners - 279pts
Northrop Grumman - 147pts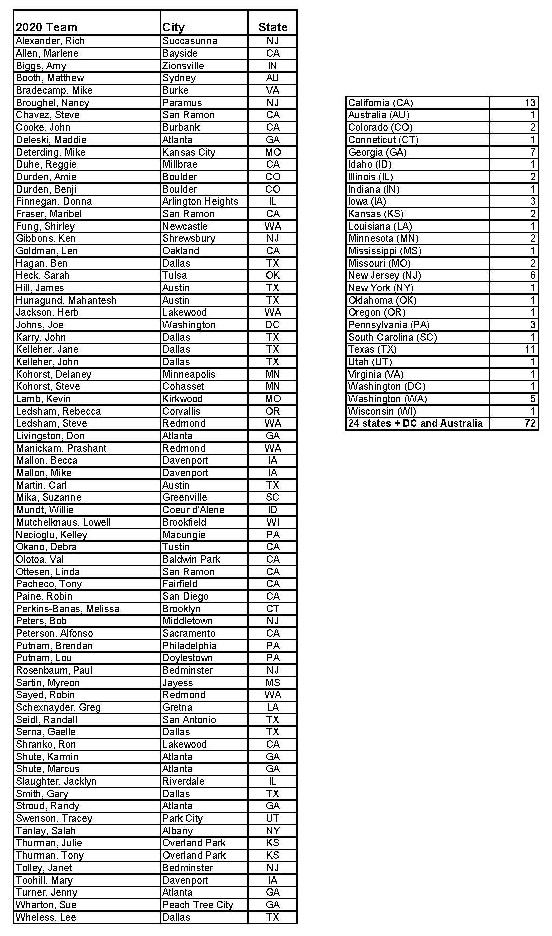 Relays
4 x 200m Relay - PLACE 1st in 1:41.87
200m
W
Karmin Shute
26.23
200m
M50
Mike Bradecamp
25.94
200m
M40
Marcus Shute
25.96
200m
M
Myreon Sartin
23.74
Women's 800m team Race - PLACE 1st in 5:07.70
800m
W
Rebecca Ledsham
2:23.80
800m
W
Kelley Necioglu
2:43.90
Master's Relay - PLACE 3rd in 7:25.30
800m
M40
Rich Alexander
2:34.67
400m
M40
Steve Ledsham
1:13.0
800m
M40
Don Livingston
2:32.33
200m
W50
Janet Tolley
38.11
200m
M40
Alfonso Peterson
27.19
Executive Relay - PLACE 2nd in 5:11.35
800m
M30
Ben Hagan
2:38.00
400m
W30
Robin Sayed
1:25.00
400m
M30
Don Livingston
1:08.35
Distance Medley Relay - PLACE 5th in 13:20.60
1200m
W
Rebecca Ledsham
3:49.20
400m
M40
Salah Tanlay
1:14.01
800m
M
Tony Pacheco
2:51.39
1600m
M
Kevin Lamb
5:26.00
Submaster Sprint Medley Relay - PLACE 4th in 5:06.44
200m
W30
Kelley Necioglu
34.10
200m
M30
Kevin Lamb
32.00
400m
M30
Mike Deterding
1:14.34
800m
M30
Steve Ledsham
2:46.00
4 x 400m - PLACE 3rd in 4:39.37
400m
M60
Reggie Duhe
1:07.25
400m
W
Kelley Necioglu
1:12.20
400m
M40
Bob Peters
1:10.95
400m
M50
John Cooke
1:08.97
4 x 100 Sprint Relay - PLACE 1st in 49.25
100m
M
Myreon Sartin
11.56
100m
W
Karmin Shute
12.43
100m
M50
Mike Bradecamp
12.38
100m
M40
Alfonso Peterson
12.88
Women's Relay - PLACE 2nd in 5:14.59
800m
W
Mary Toohill
3:04.60
400m
W
Rebecca Ledsham
1:02.20
400m
W
Karmin Shute
1:07.79
Senior's Relay - PLACE 1st in 4:50.26
200m
M60
Reggie Duhe
27.69
400m
M50
Mike Bradecamp
0:59.87
200m
W50
Jacklyn Slaughter
33.31
600m
M50
Rich Alexander
1:48.05
400m
M50
Marcus Shute
1:01.34
Men's Mile Team Race - PLACE 5th in 11:07.00
1609m
M
Ben Hagan
5:32.00
1609m
M
Lee Wheless
5:35.00
Three-Lap Sprint Relay - PLACE 4th in 3:22.63
200m
W
Rebecca Ledsham
28.50
200m
M
Bob Peters
29.74
400m
M
Kevin Lamb
1:11.00
400m
W
Jenny Turner
1:13.39
The AT&T Running Team won the Corporate Running Association 2020 National Championship! This virtual event held from June 15 through July 31 produced a margin of victory over GE by 19 points, eking ahead 2519 to 2500. The other participating teams included Texas Instruments, Aerospace, ExxonMobile, British Petroleum, 3 Rivers Road Runners and Northrop Grumman.

AT&T has won back-to-back national championships following a victory last year in Golden, Colorado. The original meet this year was scheduled for June in Pebble Beach, California, but was run as virtual due to the coronavirus pandemic.

AT&T coordinators were leery if there would be much interest in a virtual meet and expected to have 30-40 participants. However, 71 enthusiastic athletes participated in events for all ages. Participating during the pandemic added its own challenges like finding track facilities, and excessive heat. Team members said it was all worth it! Every person who finished an event scored points for the team.

Comprised of current employees, retirees - and AT&T family members - this team is a shining example of AT&T's culture and community. This year, the team had representation from 24 states, DC and Australia. The team included every level from first level managers to a senior vice president passing the virtual baton.

Don Livingston, AVP Sales Strategy - Consumer Call Centers from Atlanta said, "Although it was virtual and challenging to run on your own, being a part of the team provided focus and inspiration. What a great follow-up after winning the championship in 2019!"

Individual results

For the virtual meet, 80 % of the scoring came from individual races, a sharp contrast to normal USCAA championships where 10% of the scoring comes from individual races. Since there are so many individual events in 5-year age groups, an athlete who runs well in multiple events can score many points.. Our two top performers were Becca Ledsham (136 points) and Kelley Putnam Necioglu (130 points). Other athletes contributing over 60 points were Len Goldman (96), Robin Paine (92), Lou Putnam (79), Benji Durden (78), Robin Sayed (69) and Amie Durden (68).

Relays

The points in the relays are still significant because you need top performances in various age groups and genders to do well. AT&T relay teams won 4 gold medals, two silver and two bronze.

Gold medals: 4X100 - Myreon Sartin, Karmin Shute, Mike Bradecamp and Alfonso Peterson; 4X200, Karmin Shute, Mike Bradecamp, Marcus Shute, and Myreon Sartin; Women's 800m Team Race, Becca Ledsham and Kelley Necioglu; the Senior's Relay team edged TI by .57 seconds, 4:50.26 to 4:50.83! This race in-person would have had the crowd screaming down the home stretch! The team included Reggie Duhe, Mike Bradecamp, Jacklyn Slaughter, Don Livingston and Marcus Shute; Silver medals: Executive Relay, Ben Hagan, Robin Sayed and Don Livingston; Women's Relay, Mary Toohill, Becca Ledsham and Karmin Shute. Bronze medals: Masters Relay, Rich Alexander, Steve Ledsham, Don Livingston, Janet Tolley and Alfonso Peterson; 4X400 Relay, Reggie Duhe, Kelley Necioglu, Bob Peters, and John Cooke.

Ken Gibbons was not able to compete because of an injury, but he did a masterful job of predicting how the other teams would construct their relays and then placing our runners in specific relays to optimize our score.

5K and 10K

The AT&T women dominated both the 5K and the 10K winning six different age groups in the 5K and seven in the 10K. First place finishers in one or both of the races were Becca Ledsham, Kelley Necioglu, Melissa Perkins-Banas, Debra Okano, Janet Tolley, Maddie Deleski, Marlene Allen, Maribel Fraser, Willie Mundt, and Robin Paine.

The men's road races were very close. AT&T was second in the 5K and first in the 10K. AT&T Runners who finished first in their age group in one or both races were Benji Durden, Steve Kohorst, Len Goldman and James Hill, with second place finishes by John Karry, Steven Chavez, Randy Stroud, Steve Kohorst, Lou Putnam, Lowell Mutchelknaus and James Hill.

Field Events

AT&T did exceptionally well in the Shot Put and Discus led by Joe Johns (from CNN now owned by AT&T) with two age group wins, Tony Thurman with a first and a second, Val Olotoa with two second-place finishes and Julie Thurman with a second place finish. Becca Ledsham finished second in the Long Jump. Since the High Jump standards and crossbars were not available at any location we were not able to participate in that event.

A list of team members and full results are on the website, www.attrunningclub.com. For additional information about the team visit our Facebook page, www.facebook.com/ATTRunningClub/, and our tSpace page, http://tspace.web.att.com/communities/service/html/communityview?communityUuid=79b482ce-8ad8-41bb-91ac-4a583935803e.

Up Next: we need runners for most of these events

Boston Marathon, Boston, MA, April 12, 2021 (need to qualify on your own) Contact: Lou Putnam, putnam.attrunningteam@gmail.com.

Penn Relays, Philadelphia, PA, April 24, 2021. Contact: Bob Peters, rp1741@att.com.

Eugene Marathon, Half and 5k, Eugene OR, April 24-25, 2021. Contact: Mark Nelson, mn3672@att.com.

Houston Regional Corporate Track & Field Championship, May, 2021 (date TBD), Houston, TX. Contact: Jacklyn Slaughter, trackfield1@sbcglobal.net.

Midwest Corporate Cup Relays, Berkley, MI, June, 2021 (date TBD), Contact: Jacklyn Slaughter, trackfield1@sbcglobal.net.

Corporate Running Association National Championship, Pebble Beach, CA, June 26-27, 2021. Contact: Lou Putnam, putnam.attrunningteam@gmail.com.

Other local races where we have coordinators.

AT&T can enter an unlimited number of runners in all races except for the Boston Marathon and the Penn Relays. Except for those two, we welcome all ages, job levels and abilities. The team is looking for continued success in 2021 in a hopefully "normal" year!